Regular price
Sale price
$800.00
Unit price
per
Sale
Sold out




5 mg Delta 9 Gummies Information:
Flavors:

Pomegranate 
Green Apple
Pineapple

Strawberry Cream

20 Gummies Per jar - 20ct
5mg Delta 9 THC + 25mg CBD Per Gummy
Made In The USA
Formulated With Hemp-Derived Delta 9 THC
Third-Party Lab Tested
Contains less than 0.3% total Delta 9 THC concentration on a dry-weight basis.
Quantities and Price Information: (Wholesale)
25 Jars -

 

$16.00 / Jar
50 Jars -

 

$14.00 / Jar
100 Jars -

 

$12.00 / Jar
250 Jars -

 

$10.00 / Jar
5 mg Delta 9 Gummies Ingredients:
Mixed Fruits Flavor: Organic Tapioca Syrup, Sugar, Water, Natural Flavors, Full Spectrum Hemp Extract, Mixed Fruits Puree, Corn Starch, Agar Gum, Pectin, Citric Acid, Spirulina Extract for Color, Sunflower Lecithin, Fruit and Vegetable Juice for Color, Beta Carotene for Color, Malic Acid.
Delta 9 Gummies Nutrition Facts:
Serving size: 1 neon ring (8g), amount per serving DV%, Calories 28, cholesterol 0mg, sodium 8mg, Carbohydrates 6g (1%), dietary fiber 0g, Total Sugars 4g, includes 4g added sugars (30%), Total Fat 0g (0%), saturated fat 0g, trans fat 0g, vitamin D 0%, calcium 3mg 0%, iron 0%, potassium 2mg 0%
D9 Gummies Suggested use:
Delta 9 affects everyone differently.  Please start with one gummy and wait at least two hours to see how you feel.  After that, adjust your dose accordingly. 
White Label Packaging Information:
 Jar Details:
Color

: Clear

Size

: 8oz

Material

: PET

Diameter

: 2.34 in

Height

: 2.375 in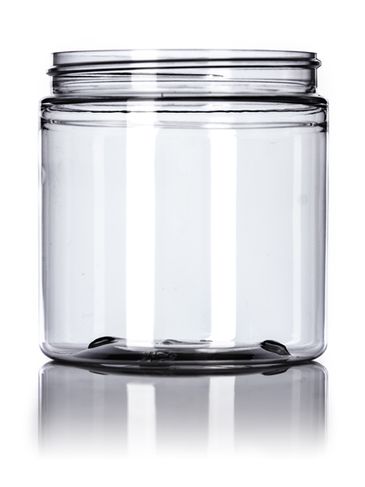 This White label Jar is an 8 oz clear PET plastic single wall jar with a 70-400 neck finish. Single wall jars are regular 1-piece jars called "single wall jars" to distinguish them from the 2-piece double wall jars; made of polyethylene terephthalate (PET).
What is PET?
PET is of the polyester family and is semi-rigid and very lightweight. It has high clarity, is solid and impact-resistant, and has excellent chemical resistance. This jar has a 70-400 neck finish and will fit closures with the same finish. The first number is the diameter of the container's opening (in mm). The second number refers to the thread/style/depth of the closure's skirt.
Lid Details:
Color

: Black

Size

: 70-400

Material

: PP (polypropylene)

Size

: PS (pressure-sensitive liner)

Diameter

: 2.856 in

Height

: 0.482 in

Label Diameter: 2.5 in (diameter)
This product's lid is a black PP plastic 70-400 smooth skirt lid with a pressure-sensitive (PS) liner. This cap comes with a pressure-sensitive (PS) liner. Pressure-sensitive liners are made from foamed polystyrene. When the cap (with liner installed) is affixed to the bottle, the liner adheres to the bottle's landing/orifice. Before the product can be dispensed, the lid must be removed, and the PS liner peeled off and discarded.
What is Polypropylene?
This lid is made of polypropylene (PP), which means it has a high heat tolerance and excellent fatigue resistance. This closure fits a container with a 70-400 neck finish.
Share
View full details